In March,1, 2008, we put up 10 photo boxes on our field site - Erkuta, Yamal. Then, we check our cameras for change the memory cards and accumulators every 15 days until 1 of May, so we were at Erkuta 5 times this Spring.
Our team was Sasha Sokolov, Vasiliy Sokolov, Viktor Sidorov, Viktor Shtro and Viktor Pavlinin. Our excellent drivers of the truck - Slava Osokin and Grigoriy Popov deliver us just perfect every time, some times our trip looks like truly extreme, and was very dangerous. It's necessary to say that our area has not "extremely easy logistic" as on several another places of Arctic Predators project. More other, drivers make all their efforts for help us to set up the cameras, for example they just perfect manage on big sledgehammer to set up the metal stick for photo boxes.
And the friendly Laptander family helped us a lot with a great hospitality, as usual.
As a first preliminary result from our cameras we can conclude, that Erkuta place in March and April is a Kingdom of Arctic foxes - we have some hundreds of pictures. Some times it was 5 animals at the same time in one picture!
From the other side we have no pictures with Red Fox, even though we saw one animal once near one of the camera.
There are only two pictures with raven and crow, some accidental pictures with willow grouses and reindeers.
And, finally, the most problematic animal for us was a wolverine. We have pictures of that animal every session. We think that it was the same animal in all pictures, because we have pictures only from three neighbouring cameras. We don't know the reason, but our wolverine just hates our cameras! Practically every checking we found broken equipment. Usually we saw broken cable, but some times observe signs of wolverine teeth on plastic boxes and on accumulators! It's interesting that usually we found the last picture with the wolverine (some times twice), and than, camera stop working... Maybe our animal hates flashes? Us far us we know it was not observed neither in Varanger nor in Nenetskiy.
So, in conclusion we want to say that from our point of view, it was a very productive spring season at Erkuta, and in spite of the not "very easy logistic", freeze -25C -30C practically every visit, strong, mostly northern wind, some problems with equipment and wolverine we finish our field work at the dates which were planning before, and we have more than 42000 of pictures for detail study now!
Erkuta team
Picture 1. The Erkuta team checking one camera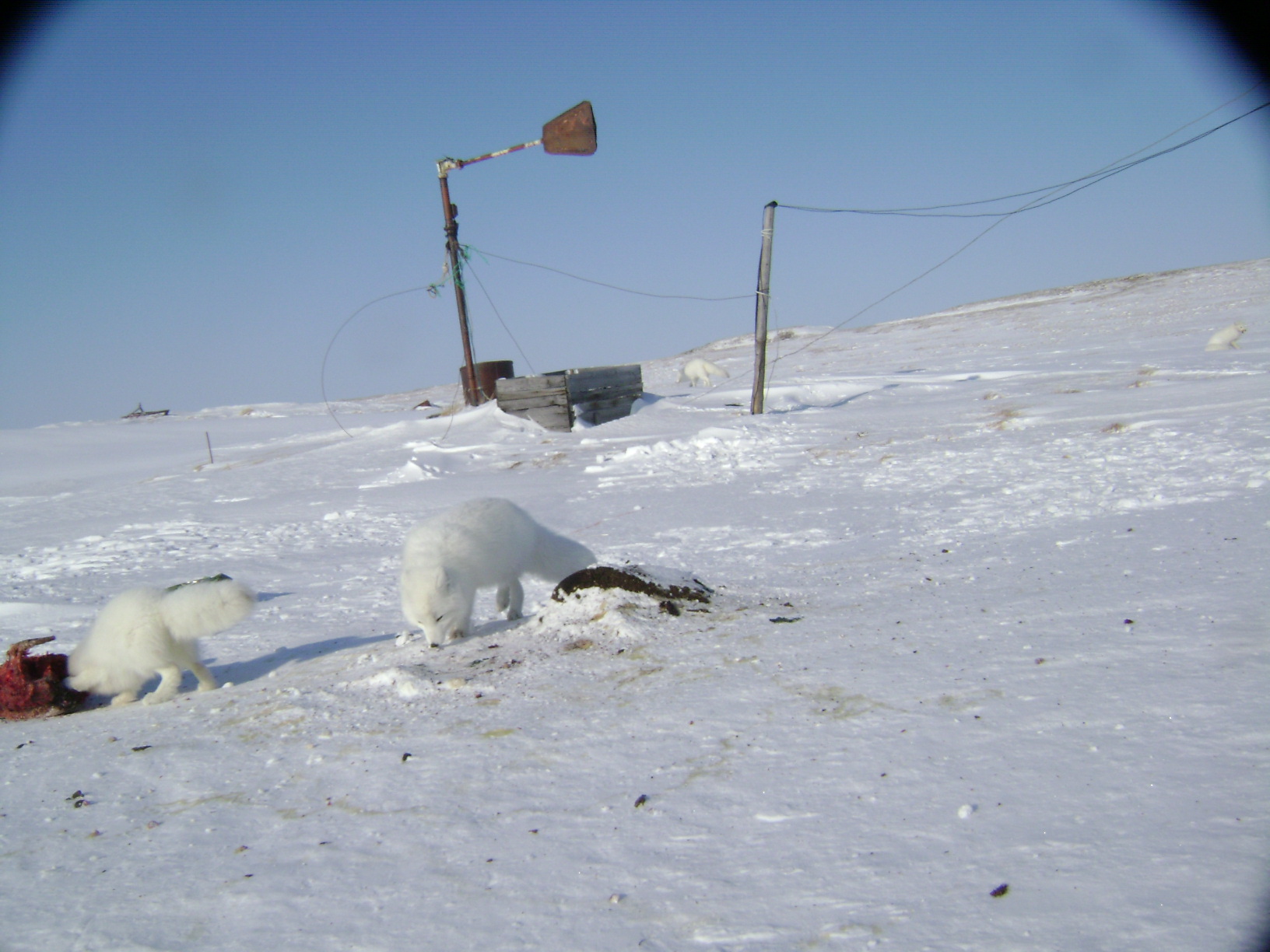 Picture 2. Four arctic foxes passing by

Picture 3. One arctic fox coming to the camera during a snow storm

Picture 4. Map of the cameras installed in the Yamal peninsula